Relieve Your Dry, Irritated Eyes
Dry eyes can seem normal after a long day at the office or spending time outside, but consistent irritation can be concerning. Over 16 million Americans live with chronic dry eyes.
One of our popular dry eye treatments is the Tempsure Envi—a noninvasive remedy that helps to promote healthy tears to keep your eyes lubricated and comfortable. Ask us about our free dry eye consultation and find out if Tempsure Envi can benefit you.
Dry eyes may be common, but you don't need to deal with these symptoms forever. Visit Overlake Family Vision, and we can get to the bottom of your dry eye symptoms. Our team is here for your dry eye needs!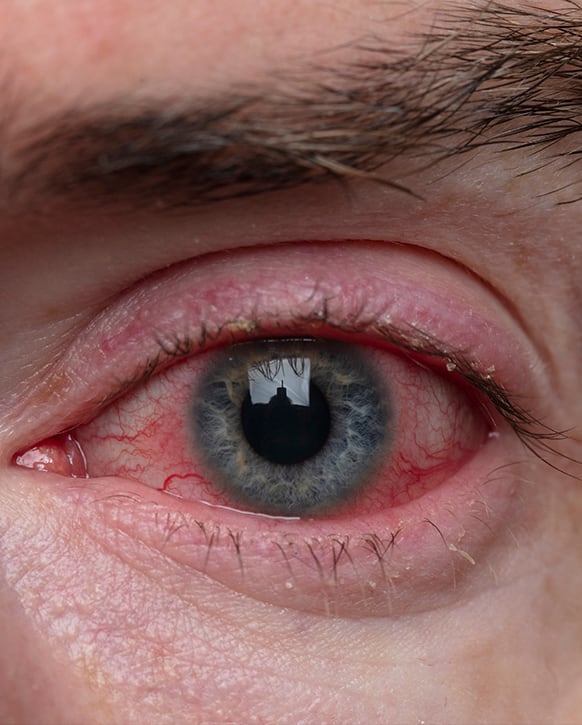 Dry Eyes: What Are They & Why Do They Happen?
Dry eye disease, also known as dry eye, is a common problem for many patients. It occurs when your tears can't adequately hydrate your eyes, leading to irritation and inflammation.
Many factors can affect dry eye development. The causes of this condition are typically not producing enough tears or having poor quality tears, which results in faster evaporation.
Issues with your tears happen because of problems with your tear film. Your tear film has 3 layers (mucus, water, and oil) that work together to keep your eyes healthy and protected. Each layer has a different purpose, keeping tears on your eye, hydrating and protecting the eye, and preventing your tears from evaporating too quickly.
When your tear film has problems, it can lead to several uncomfortable symptoms, such as:
A stinging, burning, scratching sensation
Blurry vision
Eye fatigue
Eye redness
Foreign object sensation
Light sensitivity
Stringy mucus in or around the eyes
Watery eyes
Free Dry Eye Consultations
At Overlake Family Vision, we want your eyes to feel their best, and that means we want to make our dry eye consultations as easy as possible. After we determine the cause of your dry eye symptoms, we can get to work to resolve them.
One of the ways we do this is with Tempsure Envi—an innovative solution that invigorates the glands around your eyes, promoting the healthy flow of oils that protect your eyes and make up part of your tears. This noninvasive treatment helps resolve your dry eye symptoms at their source.
Get in touch with us today to see how we can help resolve your dry eye.
Dry Eye Treatments
We offer several dry eye treatments at Overlake Family Vision to help improve your quality of life. Our team will recommend the best treatment for your needs after completing a dry eye evaluation.
During this evaluation, we assess several aspects of your eyes and tear function to identify the root cause of your symptoms. Learning more about your dry eye situation helps us create a tailored treatment plan, recommending dry eye remedies like punctal plugs, Restasis eye drops, and TempSure.
Tempsure Envi
Call for your FREE consultation to determine if TempSure is right for you.
TempSure Envi is a noninvasive radiofrequency (RF) treatment that can help relieve irritating symptoms of dry eye and tighten skin to reduce signs of aging.
In-office procedure 40–60 min

No downtime

No surgery

No needles

Wrinkle reduction around eyes
HOW DOES IT WORK?
TempSure Envi uses electromagnetic energy to generate controlled heat, which helps stimulate collagen and elastin, proteins our cells need to control inflammation and build new skin cells.
For dry eye treatment, it works by targeting the oil and tear glands around your eyes. As your skin's temperature increases, the heat helps melt oils clogged in the glands to improve tear quality. It can also reduce the inflammation contributing to meibomian gland dysfunction.
For skin tightening, the RF energy can reach the deeper layers of your skin to stimulate new cell production. Collagen and elastin give your skin cells strength and flexibility so your skin can regain a firmer, smoother texture.
WHY ARE QUALITY TEARS IMPORTANT?
Tears are necessary for maintaining the health of the front surface of the eye and for providing clear vision. Tears are made up of 3 layers: oil, water, and mucus. Each component protects and nourishes the front surface of the eye. A smooth oil layer helps prevent evaporation of the water layer, while the mucin layer spreads the tears evenly over the surface of the eye. If the tears evaporate too quickly or do not spread evenly over the cornea due to deficiencies with any of the 3 tear layers, dry eye symptoms can develop.
WHAT SKIN CONDITIONS CAN RADIOFREQUENCY TREAT?
TempSure radiofrequency can be used on the face and body, including the neck, arms, and hands. Radiofrequency is an FDA-approved skin treatment that's safe with generally mild side effects. The main benefit is rejuvenating the look of youthful skin without surgery or downtime.
Improve overall skin texture, tone, & firmness

Minimize the appearance of fine lines & wrinkles

Smooth stretch marks and sagging or crepey skin

Reduce signs of sun damage
SCHEDULE YOUR FREE CONSULTATION TODAY!
Punctal Plugs
Punctal plugs are tiny devices inserted into your tear ducts to help slow the drainage process of your tears. Blocking the tear ducts helps tears stay in your eyes for longer, keeping your eyes moist and relieving dry eye symptoms. A punctal plug is about the size of a grain of rice.
Restasis
Restasis eye drops can treat chronic dry eyes, helping relieve your symptoms. These eye drops are ideal for patients who struggle to produce enough tears to keep their eyes hydrated.
The active ingredient in Restasis helps relieve inflammation in your eyes and tear ducts. Treating this inflammation improves your eye's ability to produce tears, leading to less irritation and more comfort. Find Relief From Your Dry Eye Symptoms
Dry eyes can be irritating and uncomfortable, but you don't need to live with your symptoms. After completing a dry eye evaluation, we can recommend a treatment plan based on your needs. Visit us in Bellevue, and we can help relieve your dry eye symptoms.
Where to Find Us
We're located just past the light at Bel-Red Rd and NE 20th St on 152nd Pl NE. Feel free to call if you have trouble finding us!
Where to Park
Through the lights, take your first right onto 152nd Pl NE to access our parking lot. There is complimentary parking in the lot behind our building.
Our Address
1951 152nd PL NE, Suite 100

Bellevue

,

WA

98007
Contact Us
Hours Of Operation
Monday

:

9:00 AM

–

5:30 PM

Tuesday

:

9:00 AM

–

5:30 PM

Wednesday

:

9:00 AM

–

5:30 PM

Thursday

:

9:00 AM

–

5:30 PM

Friday

:

9:00 AM

–

5:30 PM

Saturday

:

Closed

Sunday

:

Closed