Conventional & Specialty Contact Lenses, Whatever Your Needs Are
Contact lenses can provide clear vision without needing visible eyewear like glasses. With our help, we can help you find a pair of contact lenses providing comfortable vision.
Visit Overlake Family Vision, and we can recommend contact lenses after examining your eyes. We look forward to providing you with glasses-free vision!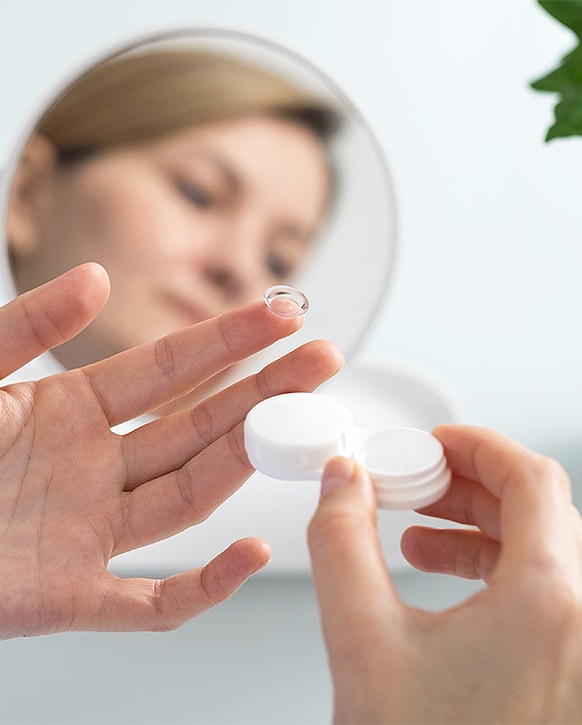 Our Contact Lenses
We carry several types of contact lenses at Overlake Family Vision to meet the unique needs of our patients. Whether it's soft, rigid, or specialty contact lenses, we have a pair of lenses for your eyes. Our team takes pride in finding the most effective contact lenses for your vision needs.
Some of the contact lenses we offer include soft, rigid gas permeable, multifocal, and multifocal toric contact lenses:
The Contact Lens Fitting Process
Finding the right contact lenses for you involves a multi-step process where we examine your eyes, determine your prescription, and learn about your vision needs. Many patients assume we can use a glasses prescription for contacts, but this isn't true.
Your contact lens prescription is different because they rest directly on your eyes instead of in front. Because of this, you need a new lens power to see clearly. We can determine this during your contacts lens exam and fitting.
Examination
Your exam is a thorough evaluation of your eyes to see if contact lenses are a good fit for your needs. We'll discuss your lifestyle, medical history, and previous experience with contact lenses to understand your vision needs. Learning about these factors helps us determine what contact lenses might suit you.
We'll look at your eyes with diagnostic technology and evaluate your tear film to see if your eyes have enough moisture to wear contact lenses. Examining and measuring your eyes is essential for helping you find contacts providing clear vision and comfort.
Fitting
Your fitting is where we review your exam results and recommend a pair of contact lenses. Many contact lenses are available today, including soft, rigid gas permeable, and multifocal contact lenses. Additionally, we provide multifocal toric lenses for patients with astigmatism.
In addition to recommending your contact lenses, we can teach you how to care for and maintain your contacts.
Follow-Up
Your follow-up appointment allows us to adjust your contact lens prescription if needed. We can discuss how your lenses feel and recommend a new pair of contacts if your current option doesn't satisfy your needs. Find Your Ideal Contacts Today
You don't need to rely on glasses to see clearer—we can recommend a pair of contact lenses during your contact lens exam and fitting. Book an appointment with us, and we can find the right lenses for your vision needs.
Where to Find Us
We're located just past the light at Bel-Red Rd and NE 20th St on 152nd Pl NE. Feel free to call if you have trouble finding us!
Where to Park
Through the lights, take your first right onto 152nd Pl NE to access our parking lot. There is complimentary parking in the lot behind our building.
Our Address
1951 152nd PL NE, Suite 100

Bellevue

,

WA

98007
Contact Us
Hours Of Operation
Monday

:

9:00 AM

–

5:30 PM

Tuesday

:

9:00 AM

–

5:30 PM

Wednesday

:

9:00 AM

–

5:30 PM

Thursday

:

9:00 AM

–

5:30 PM

Friday

:

9:00 AM

–

5:30 PM

Saturday

:

Closed

Sunday

:

Closed